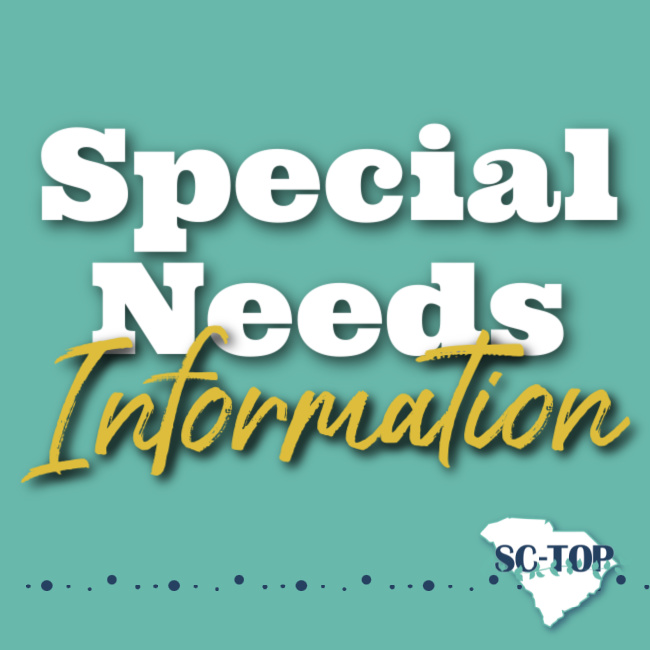 Homeschooling a student with special needs often requires some additional assistance and advice. SC TOP is happy to assist you with it!
Here's some links to help you find what you need:
Local School District: Homeschoolers can get screening tests and some services through the school district for free. The Individuals with Disabilities Act (IDEA 2004) distributes funding to the school districts for private school and homeschool students. Each school district has a set amount of funding available (and it's different amounts from one district to the next). Depending on how many students access that—determines how much services the district can offer.
Contact: your local school district "child find" or "special services" coordinator.
However, the diagnosis is workable without the school.
In fact, many homeschoolers don't want the school's help or advice on the matter. There is no legal obligation to notify or involve the school if you don't want to.
Understood.org is a great place to start investigating your child's learning issue.
It's a free, national resource hub. Tune in for weekly webinars and live chats with experts on various learning disabilities.
Understood has developed Thru Your Child's Eyes simulations to show you how your child views the world and why they are getting frustrated. You select the child's age and learning issue to personalize the simulation.
Richland Library Education studio has a variety of educational materials for check out or to browse before purchasing your own copies. You can schedule a FREE one-on-one consultation with a reading specialist. You need a county library card to check out materials–and many of the materials can be loaned out for the year. You can get an out of county library card for $65.
*******************
Educational Consultants
Educational Learning Services is a local consultant, Nancy Willoughby, who offers testing, tutoring, curriculum counseling for homeschoolers in SC and beyond. She can help formulate a course of study and lots more.
Contact: [email protected] Phone: (803) 212-8001
Homeschoolingthespecialneedschild.com is a local consultant, Susan Blackwell, who offers testing and curriculum counseling for SC Homeschoolers. She can help formulate a complete course of study.
Contact: [email protected]  Phone: (803) 429-3899
Dandelion Coach offers consultations via video conferencing on Google Meet. 15 minute free consultation phone call to discuss your needs. To schedule a session, Text/Call 864-749-0786 or Email [email protected]
*********
Dyslexia Resource Center offers testing and tutoring for struggling readers.
Contact: [email protected]
SC Assistive Technology Program  uses technology devices and services to help people with disabilities live, work and learn more independently. They are federally funded and part of a national network that provides the devices that increase, maintain or improve functional capabilities for people with disabilities.
Family Connection of SC offers a variety of programs and services to address the questions and concerns on the complex healthcare, mental health, and educational systems that families must navigate when parenting a child with a disability.