Frequently Asked Questions about
Homeschool Laws and SC TOP Policies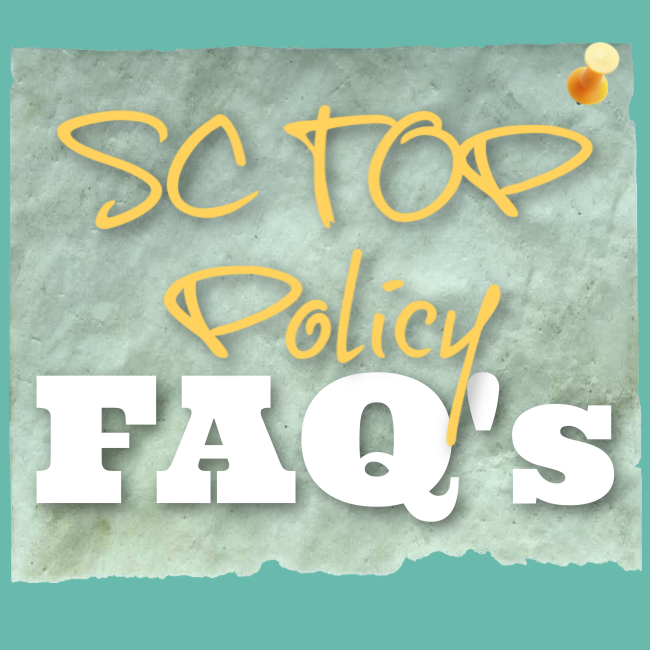 How do I legally comply with homeschool laws in South Carolina?
South Carolina has 3 options for legally homeschooling your child. Choose one of the accountability options.
1. School district
2. SCAIHS (South Carolina Association of Independent Homeschools)
3. Other Accountability Association maintained by parents to hold one another accountable (SC TOP is one of these)
Please note that you must be covered by a legal accountability group within 10 days of the beginning of school in your school district or your children will be considered truant. If you're withdrawing a student from school mid-year, you will need to obtain a membership letter. SC TOP can provide this letter and also issue a withdrawal letter to inform school officials so you will be released from compulsory attendance requirements.
What is a homeschool accountability association?
An accountability group is an organization operated by homeschoolers that provides a means of legal compliance for its members under SC Code of Laws 59-65-45 (SCAIHS) and 59-65-47 (all others). Each organization has its own policies and membership fees. SC TOP offers affordable accountability with services and support too!
Why should I join a third option group?
The law requires parents in any options to maintain these minimum records:
Your school year must be at least 180 days long.
Your curriculum must include, but not be limited to, the areas of reading, writing, math, science, and social studies, and for grades 7 and above, composition and literature.
You must keep records of lesson plans or a journal, progress assessments or grades, attendance, and a portfolio of student work.
Third option accountability groups usually have less paperwork to demonstrate the parent's compliance. You have maximum freedom to choose curriculum and scheduling with minimum paperwork. Minimal requirements do not mean minimal assistance. SC TOP can help your student achieve maximum potential.
What kind of records do I have to keep?
The records must include a plan book, diary, or other record indicating subjects taught and activities in which the student and parent-teacher engage; a portfolio of samples of the student's academic work; and a semiannual progress report, which includes attendance records and individualized documentation of the student's progress in each of the required academic areas.
The format for these records is up to you, and examples can be found on the Internet or from a homeschool planning book or program. We do not collect these records from you; however, you must submit these forms to verify you're maintaining the required records:
a 90-day progress report by January 5th of the school year, and a
180-day report by June 5th of the school year.
High school students must also submit grades/credits due June 5th, so we can format this important document and calculate the SC Uniform Grade Scale GPA. Click here to submit your request for transcript assistance.
Do I have to test my child?
Standardized testing is not required by 3rd Option Law, nor SC TOP policies. However, parents may choose when to test…and if to test. Testing is only required by state law if you homeschool through the school board of the district in which you reside (see Section 59-65-40). Other association policies may also require or recommend standardized testing program.
Click here for more information about standardized testing
What is included in SC TOP membership? Do you offer in-person activities for members?
SC TOP membership is primarily for holding the the parent-educator accountable for the record-keeping requirements of the law. Membership is also statewide, so we offer all our forms and services online. We do not bundle the in-person social/educational opportunities with our membership options. Read more here about what is included/not included with SC TOP membership